Tana Stieg
TANA STIEG (PICTURED BELOW) CURRENTLY OWES $500 DOLLARS

TO A FORMER FRIEND IN LARAMIE, WYOMING.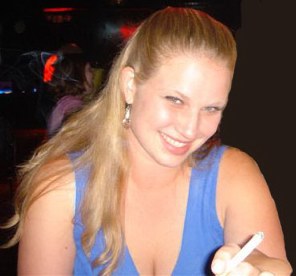 SHE BORROWED THE MONEY IN ORDER TO BE BAILED OUT OF JAIL

FOR A FELONY CHECK-BOUNCING CHARGE AND AGREED TO PAY

THE MONEY BACK.
FOR HIS TROUBLES, THIS FORMER FRIEND HAS RECEIVED NO

WORD FROM TANA ON HER WELL-BEING OR THE WHEREABOUTS

OF HIS MONEY, SINCE SHE MOVED TO RENO, NEVADA. SHE IS

ORIGINALLY FROM EKALAKA, MONTANA.

IT IS STRONGLY ADVISED THAT YOU NOT LEND MONEY TO THIS

PERSON.